The first,

mobile-first

, lightweight Sales CRM that works specifically with Mailchimp

Mailchimp is an all-in-one marketing platform focused on helping marketing teams be more efficient. Despite the number of integrations Mailchimp offers, its users churn to competitors when they need a

fully

-integrated Sales + Marketing CRM platform.

Those users represent 12% of Mailchimp's paying customers, equivalent to millions of dollars.

The people problem


Sales + Marketing teams hardly ever see eye to eye. They operate at crisscross levels and this becomes especially obvious when prospecting customers. Sales + Marketing teams have siloed lifecycles for how, when and what they communicate to those prospects, resulting in misleading customer retainer approached and potential lost revenvue.

Tempo becomes a place where both Sales + Marketing teams for SMBs can coexist.


THE VISION

Deliver a lightweight Sales CRM mobile app that seamlessly integrates with Mailchimp
Speed to market –
The goal was to learn how users engage with a mobile Sales CRM that would integrate with Mailchimp and subsequently create and launch an effective product. More importantly, we needed to understand the SMB Sales Rep – what they needed to manage their sales lifecycles and engage with their prospects and customers so they could focus more on selling.
A complex-level Sales CRM built and shipped in only 75 days
The outcome of this MVP was that Sales Reps who tried the product felt that it was a simpler, more convenient way to handle their team's processes on the go. Having tasks, email, call and scheduling as an all-in-one was helpful, rather than 'going in and out of various apps.'



Organize daily cadences

Sales users are able to create daily routines that help their team collaborate with the Marketing team, staying organized through the creation and completion of tasks with enabled email and notifications.



Manage and promote sales leads

The seamless integration allows Sales teams to add new leads with Company and Deal information for customer data synchronization directly into Mailchimp.



Create deals and manage sales activity on the go

Sales users need to keep critical notes attached to their specific deals. They're able to manage these notes and estimate closing dates as deals progress through the pipelines, updating their Marketing teams along the way so that only relevant campaigns are triggered.
The process –

It was important that we all got up to speed on where to begin launching a mobile-first Sales CRM. Not only was there a lot of education around the terminology base and background of sales cycles, how they work, which ones don't, but what the Sales Rep's day-to-day looks like and understanding why they use the tools that they do.

After preliminary research, we began with a remote Design Sprint where we defined the starting point through an MVP.

Through a collaborative, agile process, we performed continuous user research to help drive the evolving experience. With constant feedback through usability testing and interviews, we were able to reiterate design in tandem to engineering.

Understanding the lifecycle

In interviews and usability testing with sales users, we were able to hone in on how they visualize and utilize their stage cadences. Keeping track of the overlapped touch-points between both sales and marketing through the sales and customer journey was one of the most important capabilities that Tempo CRM needed to highlight the core problem. It was important to also cross-reference these journeys to help visualize the need for Tempo.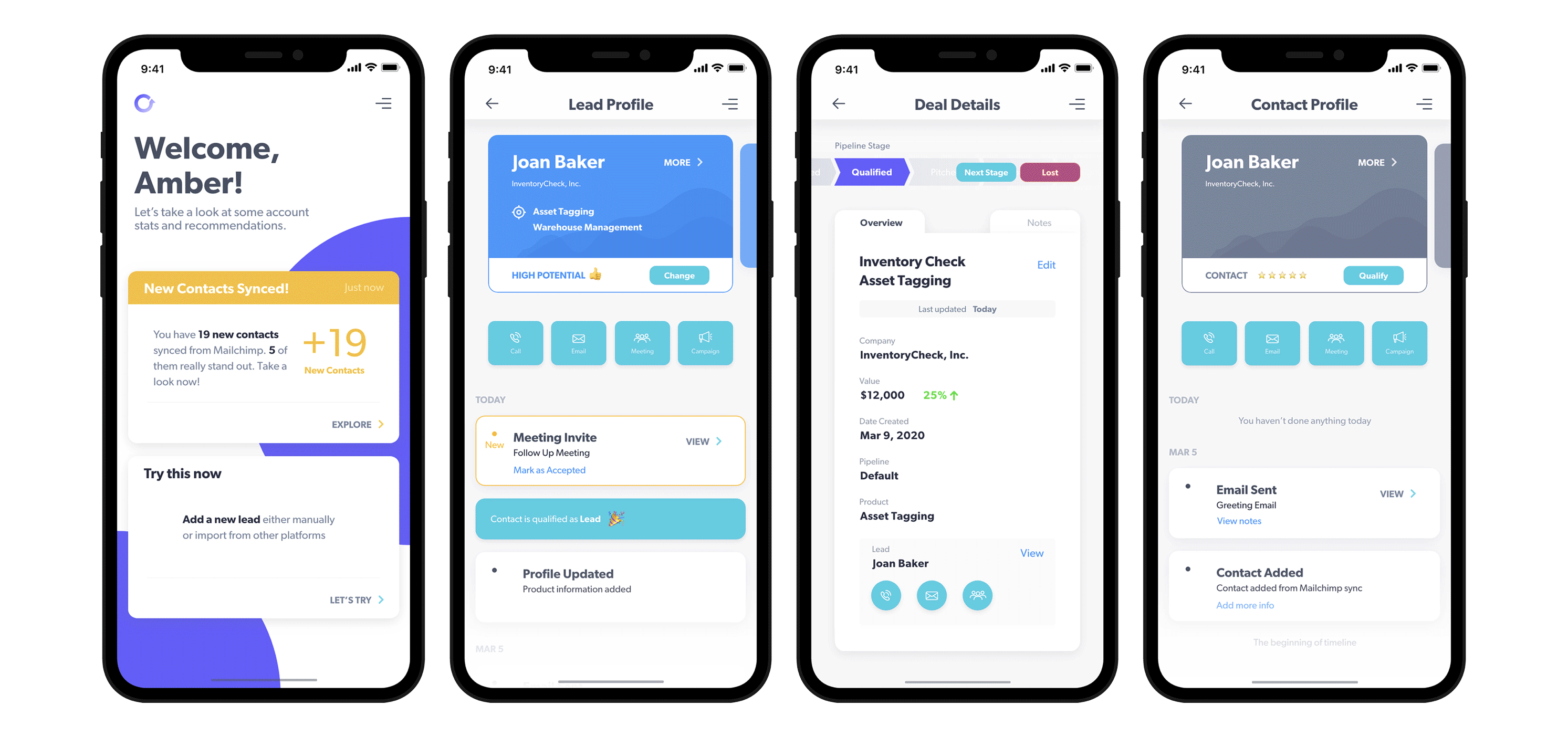 The evolution of design
The iteration of design never stops. Major decisions were dependent on user feedback and defined the product's form and function based on what Sales Reps needed in a mobile CRM. From the initial, high-level Sales MVP, we were able to explore and test what resonated with users, how they engaged and understood the product, while incorporating more of what they needed in a Sales + Marketing CRM solution.
The fourth iteration narrows the focus with a design that introduces a new and efficient way to visualize sales, and plays well with the Mailchimp brand.
This project was completed as a part of the cross-functional Tempo product team at Digital Scientists. As a Sr. Product Designer, I facilitated our first remote Design Sprint, led and managed UX research and performed usability testing and interviews. Throughout the project, I directed the overall product design, set the app's design system and branded Tempo CRM for Mailchimp.